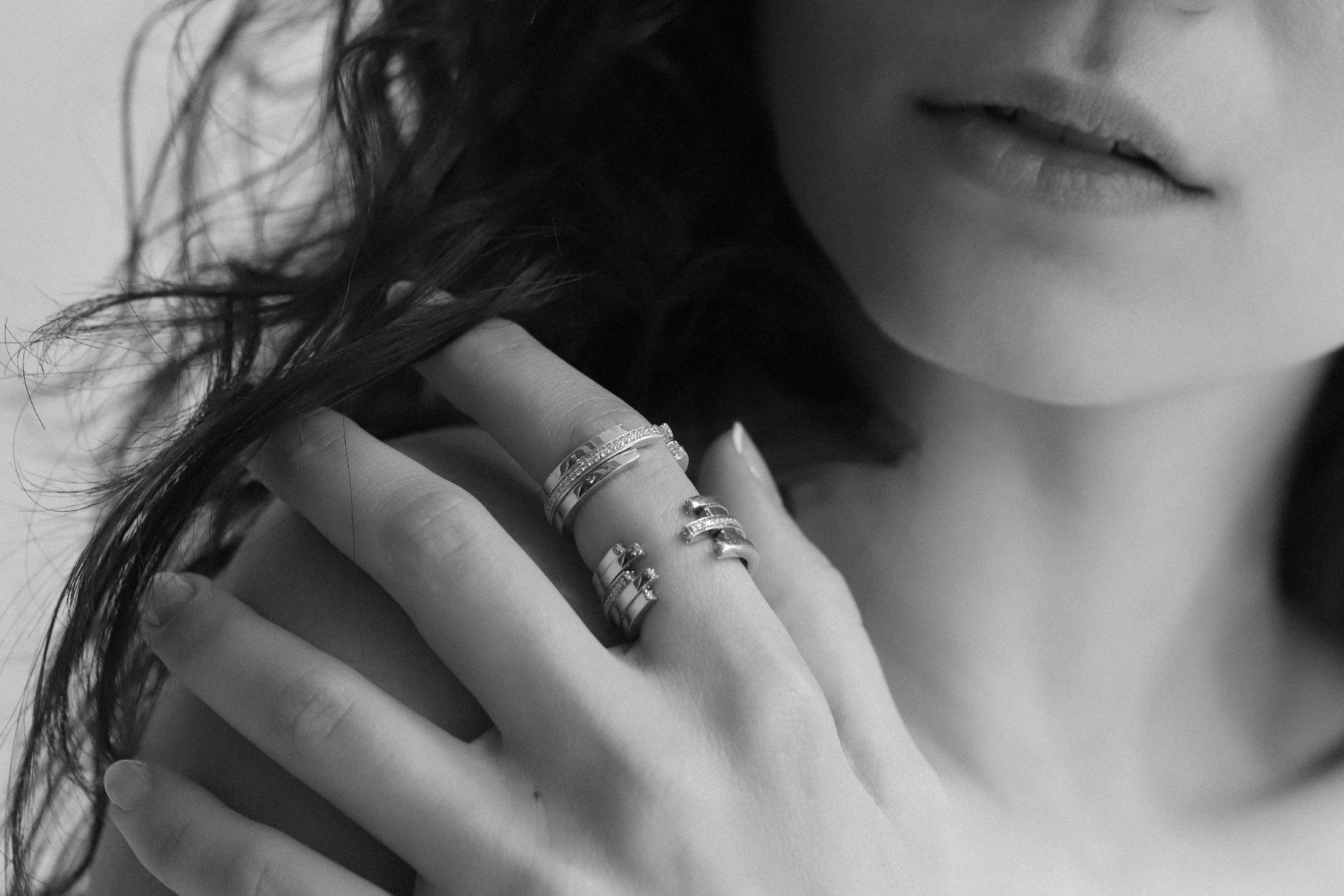 It is with great excitement that Tayloe Piggott Jewelry introduces Annette Welander.
Annette Welander is a Swedish design house and fine jeweler whose designs are epitomized by sharp Scandinavian design. Her Sequential Collection, featured at Tayloe Piggot Jewelery, is no exception. Taking lines as a point of departure, the Sequential Collection is based on circumference and the designs act according to the principles of duplication, repetition and multiplication. Connecting at different centres with diverse arc length cuts, they create space by taking by taking a single mass and extending it into a sequence of different forms. The jewels are crafted in the brand's signature metal, the rare and highly sought after 18K Swedish red gold, and are set with Top Wesselton VVS diamonds (E-F) colour. 18k Swedish red gold is a unique gold tone that falls somewhere between yellow and rose golds. In every piece, there is also a hidden diamond inside.
In addition, each jewel has several unique hallmarks showing the Swedish provenance of the pieces. These include the Swedish control mark, the small national coat of arms in a trefoil-shaped shield often referred to as the "Cat's Paw" and Sweden's Common Control Mark (CCM) or the "Scale Mark". Each piece also has with the sponsor mark that is unique for the brand (the Maker´s Mark) as well as the Town Mark for Stockholm, the crowned head of the patron saint St. Erik, and the Fineness mark for 18K gold (750) that guarantees the purity of the metal.
Tayloe Pigott will be the exclusive retailer in the USA of the brand's new Ondulation Collection, crafted in 18K rose gold and featuring one of the rarest gemstones in the world, the pink diamond from the Argyle Mine in Australia. The collection draws influence from the 20th-century Scandinavian architecture, using curvilinear shapes that feel like a natural occurrence.
Welander has commented on the collaboration, "I am excited to have my collection at Tayloe Piggott. For me, their gallery is the ideal space for our house's designs, as it provides the bridge in the communication with the artist, the consumer and viewer. A gallery is a reflective space which allows the artist to tell their story to an audience with heart and passion. I believe appreciating or buying a piece of art or jewellery is an emotional process, because apart from techniques and esteem, viewers also look for passion and meaning in the piece which resonates with them personally."
Explore the rare and thoughtful pieces by Annette Welander: